Hi all! Remember a few posts back when I told you all sorts of fun stuff was headed our way? Well, here it is!
Val of geniaBeana Scraps is celebrating her 3-year designer-versary and her 1-year anniversary of designing exclusively at
ScrapMatters
! She's so excited that she's got a ton of fun stuff going on...for starters, her
entire store
is 30% off until September 18, so head on over there and check it out!
While you're there, take a look at this new brag book template pack, releasing today: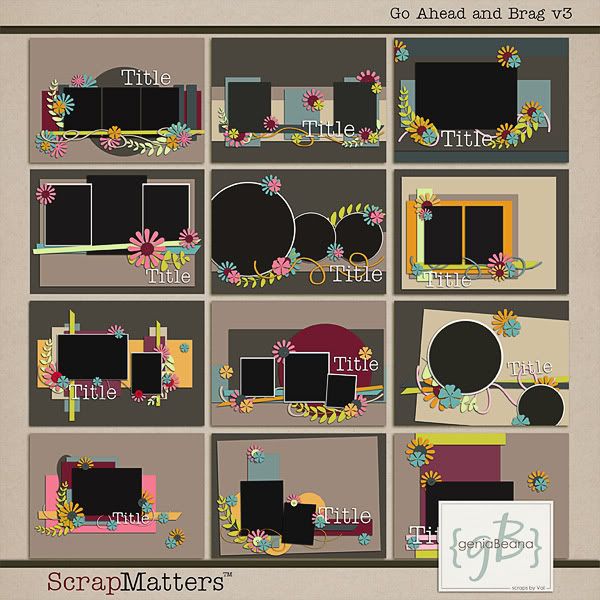 The pages are sized at 5" x 7", perfect for brag book pages...OR...calendar toppers! That brings us to our blog hop! Val and her CT got together and created free brag book pages, one for each month of the year, that, when collected all together, can be used to make your own personalized calendar! Just hop from blog to blog to collect all twelve!
Here's a list of all the blogs you'll be hopping: You probably came here from Aussiegirl Scraps and will head to Kaelira's Digiscraps next.
1. GeniaBeana Scraps:
http://geniabeanascraps.blogspot.com/
2. Neverland Scraps:
http://www.neverlandscraps.blogspot.com/
3. Aussiegirl Scraps:
http://aussiegirlscraps.blogspot.com
4. Dreamin' Big Scraps:
http://azkdreaminbig.blogspot.com/
====
You are here!
====
5. Kaelira's DigiScraps:
http://kaelirasdigiscraps.blogspot.com/
6. Chel's Scrapping Creations:
http://scrappingchelcreations.wordpress.com/
7. Digital Scrappin Rocks:
http://digitalscrappinrocks.blogspot.com/
8. MHK Scrap Bytes:
http://mhkscraps.blogspot.com
Now remember, not everyone is on the same timezone, so if someone's blog is not ready, check back later in the day. And definitely, make sure you check out Val's blog, number 1 on the list! If you scroll down a bit there, you'll find another anniversary surprise, a GORGEOUS anniversary mini kit she's giving away for FREE!
Now, let's take a look at the two free pages I've got for you! I used two different templates from the new brag book template pack, and two of Val's kits. The first page is for June, using
He's the Man
page kit:
And my second page for you is for the month of September, using the
Late September Value Bundle
:
You can download both pages together
HERE
. I hope you enjoy all the pages you collect, please leave a comment if you do, and I hope you'll come back again to see what I'm up to next!