I hope everyone had a safe and happy holiday season, and here's best wishes for a healthy and prosperous 2011 for all! It was nice to take a break from the routine, but it's also nice to get back in the saddle, so to speak. To that end, I've got tons of new products to show you from a variety of wonderful designers!
First, here is a simply stunning kit from genia Beana Scraps called
Basically Elegant
, available
HERE
at ScrapMatters:
Here's a layout I did for a challenge at ScrapMatters, also using a coordinating
cardstock pack
:
Next up is the January Baker's Dozen collab at
Brownie Scraps
, yours for FREE when you spend $10 in the store! It's called
Ringin' It In
:
I used this collab to create a layout for the challenge I am hosting over at Brownie Scraps this month, the
Brownie Flip Challenge
:
Also at Brownie Scraps we have offerings from two designers who are guests for the month of January. Beckie of B2N2 Scraps was in my Brownie Institute class back in October, and she creates some truly amazing kits! I got to play with this awesome kit called
Brights of Winter
:
A rather simple page I did:
I like this kit so much and thought it was perfect for these photos of Becca I found on Facebook, so I did another page, this time for a challenge at Brownie Scraps:
Another guest designer is Michelle of Ohana Designs, who you are already familiar with from her shop over at MLAS. She released this kit,
True Colors
, as exclusive to
Brownie Scraps
for the month of January:
My thanks to Sarah for posting this photo on Facebook...I lifted it and scrapped it!
Finally, we have a collab between Ohana Designs and Scraps by Mara called
Friends Across the Miles
. You can pick it up
HERE
, also at Brownie Scraps: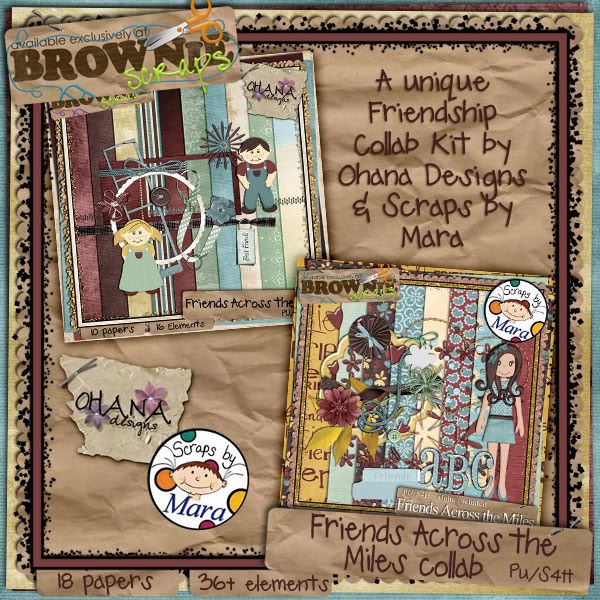 And I did this page showing how sisters can be friends, too!
Whew! That was a lot of catching up to do! I hope you saw something you liked. Speaking of catching up, I've got the two last weeks of P365 pages to show you. Once I actually make them, that is! Til then...