As promised, I have a couple of new kits to show you today! First up is Dylabel Designs' contribution to the Color Play collection at Elemental Scraps. It's a yummy autumn-themed kit called
Time for Fall
. You can pick up the papers and elements separately at Belinda's store
HERE
for $1 each for the first week! Here's a peek at the full kit:
And a page I did with this kit:
And, here is the reveal of the new collection I gave you a peek of last time...a set of eight mini kits from Scraps by Mara called
Are You Afraid?
! Each mini features a different adorable little monster living in its own color world. You can pick up each monster on its own for 25% off or the whole group for a whopping 58% off at Mara's Brownie Scraps store
HERE
! And, if you do purchase the collection, Mara will throw in a free alpha! Here's a look at all the little monsters: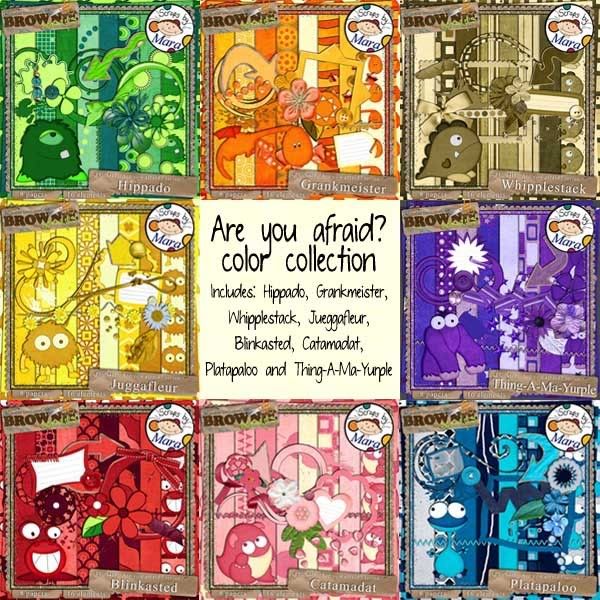 I took the time to work with 4 of the 8 minis:
Platalapoo
Hippado
Whipplestack
Catamadat
Aren't they fun?!
Also, I have a bit of news! In September I entered a scrapping contest at Brownie Scraps. While I didn't win the grand prizes of a Wacom tablet or the Persnickety Prints gift certificate, I was offered (and accepted) a 3-month guest spot on the Brownie Scraps Creative Team! So in addition to showing you goodies from Scraps by Mara, I'll have all sorts of fun things to play with from the other great designers there!
I also enrolled in the Brownie Institute, which is geared towards teaching participants how to design their own papers and elements. While I have no intention of selling, I'm hoping that what I learn will help me be a better scrapper. And for you guys, that means I'll soon have some freebies to give away of my own work! So stay tuned!